Happy New Year to everyone except Volter and his affronts to nature!
Alright, comic description out of the way, you can find the rest of the post below today's strip.
---
Comic Archive . Support on Patreon! . Commissions . Character Bios . Locations
---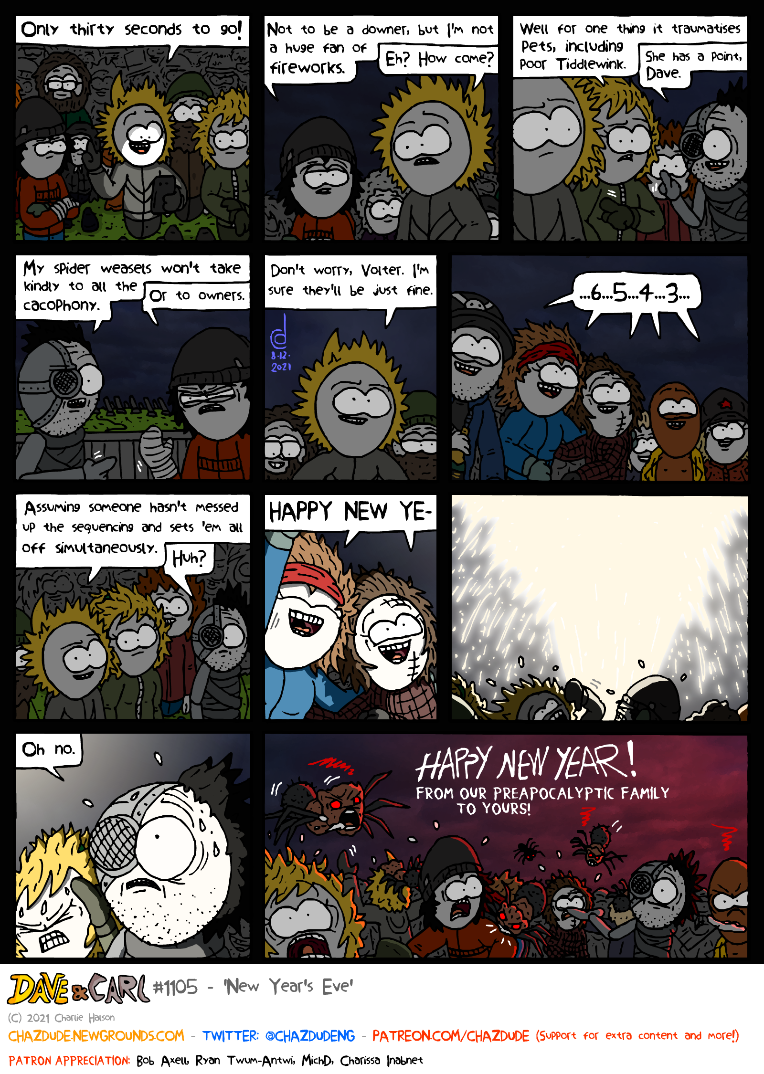 ---
As the title and date suggest, this is indeed 2021's final news post. For me creatively my highlight of the year was IZ88, a Cold War-era foray into the backstories of two completely different yet somehow intertwined Potatoman characters. I can only hope that my followers enjoyed it as much as the usual more light-hearted Dave & Carl strips.
Speaking of light-hearted, the return of Potatoman in 2022 will (for me at least) be a welcome change from two prequels in a row. Captain Obnoxious and IZ88 were interesting diversions, but the present day once again beckons...
Outside the D&C World, this year has seen plenty of defining events, whether they happened on Capitol Hill, the Suez Canal or in Kabul. For me personally though, here in the 'United' Kingdom, one highlight event of the year was my meetup with @Troisnyx in London this past September. Hopefully there'll be some sort of proper big NG London Meet again at some point in the future, one that I can show my mug at. This plague can't last forever, right?
Furthermore, as you may have already heard, Trois was (finally) granted indefinite leave to remain in this land. For all the heaps of bullshit this party and government have done over the past decade or so, this was a beam of light through all the dark clouds.
I think that's about it from me. What are your highlights from 2021, creative or otherwise? Feel free to comment below.
Allow me to finish this post off with a leaning tower of (dried) pasta.
-Chaz
---